A hospital in Baguio City that has been closed for over a decade reopened as a treatment facility exclusive for patients afflicted by the deadly COVID-19.

City officials led by Mayor Benjamin Magalong visited the Sto. Niño Jesus Medical Center in Lower P. Burgos Street for a simple opening ceremony on Friday.

Operations, however, will not start until May 11 as preparations, such as acquisition of medical equipment and manpower, are underway, said Dr. Paul Quitiquit, medical director of Saint Louis Hospital Medical Center.

The city government is working with Saint Louis Hospital of Sacred Heart, Baguio General Hospital and Medical Center, Pines City Medical Center and Notre Dame De Chartes Hospital to manage the facility.

The hospital can accommodate over 50 patients with COVID-19 symptoms, while at least 30 staff members, including nurses and transport aid, will be on duty.

#StoNiñoJesusMedicalCenter
#COVID19 #Baguio #coronavirus #hospital
Igorotage supports Video Creators!
Out of the box, Igorotage supports link sharing — Yes, including Youtube videos! Are you a vlogger? Grow your channel for free by sharing your videos with the Igorot community!
Igorotage is on Youtube as well! Support us by subscribing to our channel.
Igorotage Weekly Digest
Don't miss anything important from the Igorot community! Each week we curate the best new information and deliver it directly to your inbox every Sunday morning.
Wallposts
You might also like these related wallposts.
COVID-19 Regional update as of 12nn of June 10, 2020

No new case reported in the Region.

NOTE: 1 case is reflected in CAR (Baguio) but the patient is admitted in NCR since our reporting is based on the place of residence.

[UPDATE] COVID CASE UPDATE TODAY JUNE 10, 2020

BOMBO NEWS DEPARTMENT
JUNE 10,2020

BAGUIO CITY--Maibasar iti datus manipud kadagiti local government units ken DOH-Cordillera, nailista ti maysa a kaso ti covid sadiay La Trinidad, Benguet nu sadinu daytoyten ti maika-15 a confirmed case ti probinsya.

Ti nasao a covid-patient ket agtawen ti 28, truck helper, ken residente ti Little Kibungan La Trinidad, Benguet.

Daytoy ket maatap a close contact ti 22-anyos a truck helper manipud Botiwtiw, La Trinidad a nagpositibo iti covid-19 kalpasan a nagturong sadiay Cubao Quezon City idi May 31, 2020.

Malaksid iti daytoy, nailista met ti maysa a kaso ti covid-19 sadiay KALINGA nu sadinu nakasangpet ita ti swabtest result daytoy kalpasan a nagtaud sadiay Caloocan, Metro Manila.

Dagus met a naiturong daytoy iti isolation area ti Tabuk City bayat a maipatpatungpal metten ti contact tracing nu sadinu daytoy ti maysa a pasahero ti victory liner bus no.1 nga adaan iti 25 a pasaeors.

Kabayatanna, nailista metlaeng ti kabarbaru a kaso iti covid-19 sadiay Lagawe Ifugao ita nga aldaw.

Daytoy ket maysa a lalaki, 30-anyos ken OFW a nagtaud sadiay Dubai.

Sigun iti LGU-Lagawe, simmangpet daytoy iti nasao a munisipyo idi June 7 ken dagus a nagturong daytoy iti Municipal Community Quarantine sadiay.

Nagpaisong met daytoy iti Rapid test a nagresulta iti reactive kasta metten a naipasidong daytoy iti swab test nu sadinu naamuan a nagpositibo daytoy iti covid-19 ita nga aldaw.

Iti agdama ket ada daytoyen iti natalged a kasasaad bayat a manarimaan metten ti contact tracing kadagiti indibidual a nakapulapol daytoy.

#BeatCOVID19 #covid19 #WeHealAsOne #Coronavirus #COVIDkaya19to #Cordillera
Some areas of Camp John Hay in Baguio will be opened for leisure visit to residents of the city beginning Tuesday, the local government's public information office said Sunday.

Visitors must wear face masks and observe physical distancing when they go around the camp's Manor children's playground, Ayala open field, and Yellow and Eco-Trail, according to the PIO.

These areas will be open from 6 a.m. to 7 p.m. every Tuesday, Thursday, and Saturday, for persons aged 21 to 59, and every Sunday for those below 29 and senior citizens.

#CampJohnHay #Baguio #quarantine #COVID19
Magalong: Hindi tayo susuko... The goal is clear, to build Baguio back in far better ways
"Hindi tayo susuko... The goal is clear, to build Baguio back in far better ways."

"Hihilom tayo. Babangon tayo ng tuluyan. Babalik ang Baguio sa higit pang ganda, sa higit pang gayuma at sa isang progresong walang naiwan."

"Ating tandaan, nasa Diyos ang awa, nasa atin pa rin ang gawa. Salamat ng marami sa inyong pagsuporta at pagtitiwala."

- Mayor Magalong via RAB for Magalong FB Page

#Magalong #Baguio
Baguio Boy promoted to Two-Star Army General
True-blue Baguio boy Benedict Musni Arevalo has been promoted to two-star Army general during donning of ranks at Camp Aguinaldo last week with Armed Forces of the Philippines Chief of Staff Felimon Santos donning his second star. A member of the Philippine Military Academy Class of 1990, Arevalo is the current AFP Deputy Chief of Staff for Civil-Military Operations.

Arevalo is the son of retired military officer Filoteo Arevalo Sr. of PMA Class of 1956.

The newly-promoted Army officer has also four siblings, who are all military officers namely Alexander of PMA Class 1982, Filoteo Jr. of PMA Class 1984 (now a commercial pilot), Robert of PMA Class 1985, and Armand of PMA Class 1991.

Photo: AFP-PAO
Credit: Baguio Midland Courier

#Baguio #Army #General #BenedictMusniArevalo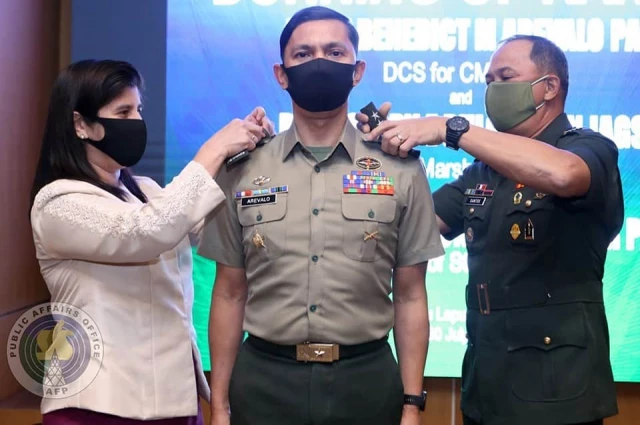 Proud Igorot OFW is a United Arab Emirates Hero
Proud Igorot, now a frontliner in the United Arab Emirates!

Red Cloud Decaleng Capuyan is one of the healthcare workers who continues to fight COVID-19 in the UAE.

Red is from the Cordillera Administrative Region.

He graduated with a Bachelor of Science in Nursing from the St. Louis University in Baguio city. He also has an International Interprofessional Wound Care Course at the University of Toronto in Canada.

He has been an Overseas Filipino Worker for five years. He is also the founding president of the Philippine Nurses Association in the UAE (PNA-UAE).

Despite the danger to the chosen profession, Red remains hopeful.

We salute you all Igorots abroad! Stay safe and see you the soonest!

Credit: GMA Pinoy TV

#ProudIgorot #OFW #frontliners #heroes #UnitedArabEmirates #COVID19 #RedCloudDecalengCapuyan